Let's face it - when it comes to cloud backup, you've got lots and lots of choices. So why IDrive? When we launched IDrive in 2007, our goal was to make IDrive the best solution for protecting your critical data on EVERY internet enabled device. Whether you are a consumer or a small business, we want IDrive to be the most cost effective, secure and easy solution to backup your data to the cloud.
Sounds like a standard sales pitch, right? So I'd like to dig a little deeper and back that pitch up with some facts - here are my top ten reasons IDrive is the best backup service:
Value
IDrive plans start at $7.95 a month for 5 TB of storage for backup, storage that can be used to backup ALL your devices into ONE account.
What does this mean? The average household these days has 5 internet enabled devices. A desktop, a laptop, a few smart phones and a tablet. IDrive can be installed on all these devices to backup your critical data into one account.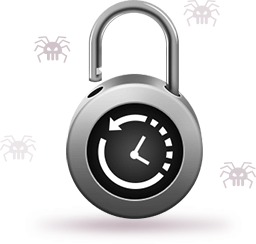 Your best defense against ransomware!
Cyber threats like ransomware and crypto viruses are becoming increasingly sophisticated. Encryption enabled ransomware, for instance, uses a malicious software to encrypt files locking users out of their own data. Affected users are presented with two options: either pay ransom or lose their data forever. Even after paying ransom there's no guarantee of successful data recovery. With IDrive Snapshots, make sure that you can restore versions of the backed up files, to a time prior to infection.
Snapshots are historical view of your data, stored in IDrive account which allows you to perform point-in-time recovery. In case your files are attacked by ransomware, you can restore your data by selecting a timeline before the attack. As IDrive is cross-platform compatible you can ensure all your PCs and Macs are backed up and protected against these threats. The additional storage requirements for Snapshots has no impact on your account storage space.
Speed
So if you've got only one computer, should you use another service? After all, many offer 'unlimited' storage. But there is one little secret: backing up to the cloud is slow. Painfully slow. Most users who pay for these 'unlimited' backup per computer spend weeks, even months to backup just a fraction of their data!
Knowing that bandwidth speeds from ISPs were not where users needed them to be, we created IDrive Express™, a shipped drive method to kick-start your backups absolutely free.
You don't need to clog your bandwidth for weeks, or even months, while you wait for your data to upload for the first time. We will ship you a hard drive, to seed the initial backup of all your data.
No other service offers the express uploading service at the speed and cost we offer.
Just in case the drive is lost in shipment, no one can see the data in it, because it is all encrypted with military grade encryption.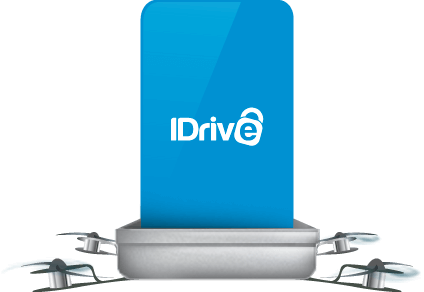 Security and Privacy
All data stored with IDrive is secured using 256-bit AES encryption. This is military grade encryption, approved by the Department of Defense for the encryption of 'TOP SECRET' data. Whether you are backing to cloud directly from your PCs or Macs, or shipping an IDrive Express drive for initial backup, data stays encrypted through the entire life cycle. You can even choose a private key to encrypt your data, which means only you will ever have access to your files - even we can't view them!
Business
Say you have an office with about 20 computers. Your accounting team uses Windows, your designers are on Macs, your Sales team has some laptops and tablets, and your IT has a local Linux server as well. And of course, everyone's got their favorite brand of smartphone. Many cloud backup services either can't accommodate your needs, especially mobile and Linux, and often have per computer license fee model.
You can use the Dashboard, a centralized web console, to create unlimited user accounts within your storage space and organize them into different groups. You can also push backup and restore settings across all users and groups.
IDrive Express is also at your disposal, with additional free uses for business for either backing up, or restoring their data quickly.
IDrive has the best solution for securing all of your business data with flexible storage, security, speed and privacy options.
NAS
If you've a business, you might be using a NAS device. IDrive has you covered too.
IDrive does NAS backup better than anyone else. You can backup data on any mapped drives and typically you can map your NAS device as a mapped drive. For some NAS devices, we are actually part of their App stores. We provide native apps for several NAS devices to make setting up your backups even easier.
IDrive® BMR
IDrive BMR offers a cost-effective, bare-metal restore functionality with onsite disk image backup, snapshots, VMware backup, cloud replication and virtualization. You can store entire hard disks including OS and application configurations in an onsite server and retrieve them during a technical breakdown.
IDrive BMR also supports agentless backup of your physical and virtual machines running on ESXi and vCenter. You can transfer / schedule backups stored on the BMR server to the cloud easily. Additionally, manage backups and view statistics via the centralized web console.
Cloud Drive
You may have heard about Sync before, but what does it have to do with cloud backup? As people become more accustomed to having data at our fingertips, our users have a need to access their data locally, with file changes being automatically pushed to many other devices.​ Say you start working on a document (like, a Top Ten Feature list, for example) at home, but want to continue it at work. Rather than saving the document and e-mailing it to yourself, Sync lets you drop it in a folder, and have that file automatically sent to as many devices as you need. Other computers, laptops, even tablets will have access to the file instantly.
Sync provides the best of both worlds - Speed of local access, security and anywhere access of cloud. Every IDrive account comes with free sync space equal to the size of their backup space, essentially doubling the total storage your account has. Give it a try, it may change the way you think about data forever.
Collaborate
We are all connected these days via laptops, smartphones, etc. IDrive makes it further easy for you to share your files with friends, family, and coworkers for collaborative access.
Performance
We are always working on providing the best performance possible. In many of our internal tests and in professional reviews, we have stood out as the best performing cloud backup solution. Combine that with Express backup and restore options, and you've got an unbeatable service.
So have we done it? Do we have the best backup product for individuals, families, and small business? We think so. But we know we can do even better. This is what drives us every day - we're always striving to make IDrive an even better way to protect your digital life, and once you give us a try, you'll see why I'm proud of our team, and the service we've built for you.
Raghu Kulkarni