If you have a business, you already know the importance of your computer backup in case of a system crash or file corruption. The IDrive system state backup is the backup of critical system related components that you can restore in the event of a system crash or failure.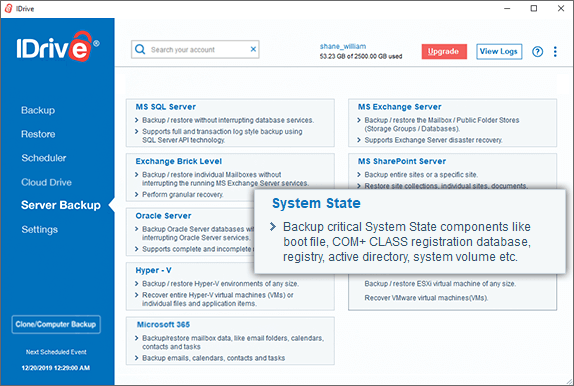 Perform quick, easy and secure backup of critical system components such as registry, boot file, active directory, system volume etc. You can back up these components to an offsite location without interrupting the running applications on the machine.
View the steps to backup System State to the IDrive account.
Efficiently restore all the important system state components in a secure and reliable manner thus ensuring business continuity in the event of system crash.
View the steps to restore System State from the IDrive account.
The following components are backed up:
The Boot file
The COM + CLASS Registration Database
The registry
If the system is a domain controller, the following components are backed up:
Active Directory (NTDS)
The system volume (SYSVOL)
If the system is a certificate server, then the related data is also backed up.
Supported Operating Systems
IDrive supports System State Backup on the following operating systems:
Client systems: Windows 7, Windows 8 and Windows 10.
Server systems: Windows Server 2003, Windows Server 2008, Windows Web Server 2008, Windows Server 2008 R2, Windows Server 2012, Windows Home Server 2012, Windows Server 2016 and Windows Server 2019.
Protect your organization's data with secure online server backups
Starts at $99.50/year $74.62 for first year
SIGN UP NOW!